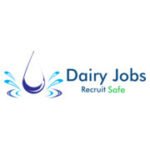 Immediate Start Available
We are seeking experienced Milkers to undertake specified dairy production tasks and techniques, methods and control procedures required for the successful day-to-day operations of the dairy farm.
You will work collaboratively with your team to meet all required functions, ensuring that all activities are performed efficiently, to a high standard and compliant with all competencies regarding safety, animal welfare, quality, environmental standards, and risk management. Complying with the farm's guidelines, SOPs and policies at all times.
Your activities include but are not limited to:
Milk harvesting and assisting with managing the milk harvesting schedule
Check and start the milking system, milk cooling, refrigeration, washing and feed system.
Cup up cows after attending to appropriate udder hygiene.
Remove cups from cows following the standard operating procedures (SOP). Apply teat disinfectant for use according to SOP. Oversee the movement of cows from the dairy.
Identify cows with clinical mastitis, teat damage, lameness and other illnesses.
Follow protocols for the treatment and recording of the condition.
At the completion of milking, follow procedures for plant cleaning and shutdown process.
Prepare the dairy in readiness for the next milking according to the set guidelines.
You will have an exceptional work ethic, adhere to workplace policies and procedures, take care of your own health and safety and that of other persons who may be affected by your conduct. In addition to this you will have 3+ years' experience working on a dairy farm in a similar role.